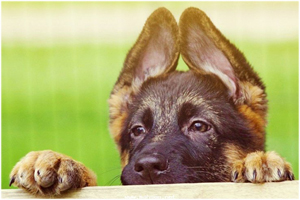 На днях решил для разминки перевести вот этот рассказ: История о настоящем и самом преданном друге.
Довести до ума помогла знакомая.
Gillian, thanks for polishing this text!
========
A man with a German shepherd dog named Weiss often visited our animal clinic. The dog was heavenly beautiful and very intelligent. He had been trained as a military machine, an absolutely obedient and outstanding protector and a very tender and affectionate dog. If I just said we loved Vasya, it would be an understatement. We adored him. His owner took care of his health scrutinously and we used to meet him very often. Sometimes it was a soar ear, sometimes eyes, cutting of the nails, inoculation treatment. They often came without any particular reason to have some goodies.

Weiss had an interesting habit: if he was being given an injection or some other unpleasant procedure, he would bite either the vet's or his owner's trouser leg and close his eyes tight when he was in pain.
When Weiss was 13 years old, he was diagnosed with cancer. For nearly two years our entire staff and his owner had been fighting his cancer every day, and every day Weiss had to bite a trouser leg or a sleeve or the bottom part of a shirt and closed his eyes tight. But the cancer was stronger… Sooner or later he succumbed to it.
It was 6 AM, we received a telephone call.
" Weiss can't stand up and is howling with pain"
I could hear his howling in the handset. I sent a colleague to their house with some drop bottles, painkillers and a blood test.
The colleague came back pale and crying. We sent the blood test to the laboratory. In two hours we got the result… Weiss had hardly any time left.
6 PM, another call and a long talk to the owner.
— I can't stand watching Weiss suffering and howling with pain. We ran out of painkillers in one hour and he had some sleep, but now he is howling again. I'm taking him to your clinic to put him out of pain.
I told him I would be waiting for them, put the telephone down and started crying, as did my colleague. The owner came with his wife. They brought Weiss, it was painful to see how this beautiful handsome dog had become stack of bones. The owners asked to be excused so they could wait outside the treatment room until it was over, as they could not bear to see their beloved dog dying. All Weiss's body parts had failed but the heart was still pumping the blood. We administered intravenous morphine and Weiss went to sleep, the howling had ceased, and as his heart gave up, he exhaled his last breath.
— It's over … — I told my colleague. We were both crying… Wiping away tears and crying again. I went to the owner and saw him, a strict man who spent 15 years alongside with his friend, who fought for his life every minute, sitting near the steps and sobbing violently. I explained to him that Weiss did not feel any pain, and I extended my most sincere condolences. The owner thanked me for being with Weiss during his last moments, he was regretful that he had not stayed with Weiss during his final moments. He took Weiss, wrapped him with a blanket and drove away.
Several weeks passed. A young couple came with a 2 month old German shepherd pup. He was quite frightened. I approached him in order to calm him while my colleague was giving an injection. And the pup bit my sleeve and closed his eyes tight, making no sound. I started crying …
— Hello Weiss… I've been missing you…
[sc:social_networks ]